Is this the worst film ever made?
While Plan 9 from Outer Space had little regard for continuity or cinematic convention, the film wasn't some cynical hackjob, but a truly eccentric labour of love, writes Nicholas Barber.
In 1978, a book called The Fifty Worst Films of All Time was published. It celebrated such crimes against cinema as Valley of the Dolls and Robot Monster (also The Omen, which seems a bit harsh), but its authors, Harry Medved and Randy Dreyfuss, knew that there was plenty more dreck where that came from. At the back of the book, they included a suggestions page that readers were invited to fill in and post to them. One name was scrawled on nearly 400 of these ballots: Plan 9 from Outer Space.
Written, directed and produced by Edward D Wood Jr, better known as Ed Wood, the film is a cheap science-fiction/horror hybrid about aliens who zoom across the US in flying saucers, reviving the corpses in a small-town graveyard. It was barely seen in cinemas after its premiere in Los Angeles in 1957, but once it began being shown on late-night television in 1961, insomniac viewers noticed that this was no ordinary B-movie – or indeed C-, D-, or E-movie. The authors investigated, and agreed. When Medved and his brother published a follow-up in 1980, The Golden Turkey Awards, Plan 9 went straight to number one. It was, they declared, The Worst Film of All Time.
The accolade stuck. Among cinephiles who enjoyed bad films as much as good ones, Plan 9 from Outer Space became known as the one movie you had to watch, and watch again, and tell your friends (or enemies) to watch, too. Xavier Mendik, co-editor of The Cult Film Reader, says that it "remains a key template for judging cult film status". Its fans wrote unofficial sequels and mounted stage adaptations. Jerry and his buddies aim to watch it in an episode of Seinfeld from 1991. And in 1994, Tim Burton's biopic of Ed Wood climaxes with the making of the film. "This is the one," beams Wood (Johnny Depp) at its premiere. "This is the one they'll remember me for".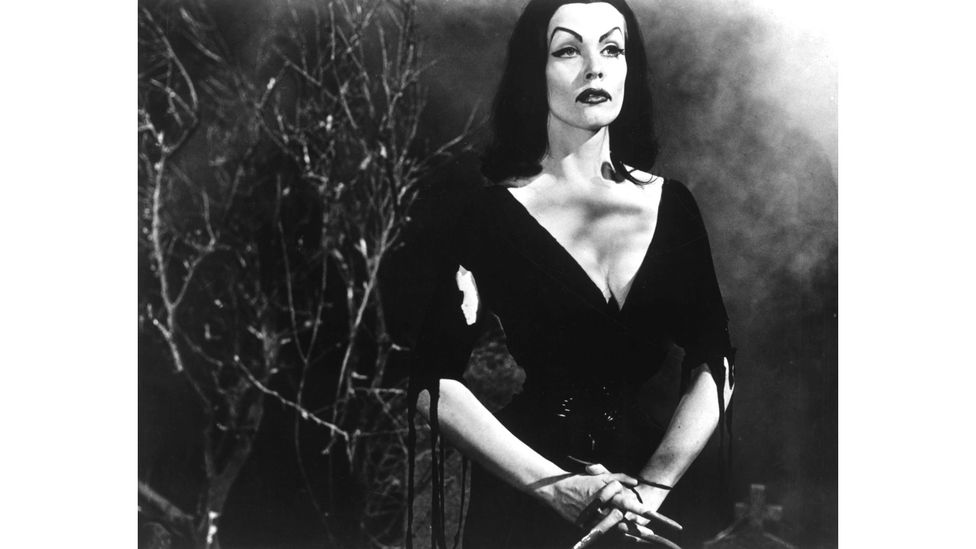 Maila Nurmi hosted her own series, The Vampira Show, from 1954 to 1955 – before appearing as the character in Plan 9 from Outer Space (Credit: Alamy)
Whether or not Wood really said any such thing, Plan 9 from Outer Space is definitely the one he's remembered for. More than 60 years since its premiere, and more than 40 since The Golden Turkey Awards brought it back from obscurity, it stands as the epitome of cinematic awfulness. And that's why so many people love it. But what sets it apart from other celluloid catastrophes?
"It's difficult to pinpoint the essence of what makes one film bad and dull on the one hand, and another film bad yet entertaining on the other," Jamie Sexton, co-editor of The Routledge Companion to Cult Cinema, tells BBC Culture, "but bad-yet-entertaining films tend to fail to meet filmic conventions in a spectacular manner. It's the gap between ambition and achievement which is hilarious."
The wafer-thin cardboard gravestones and the am-dram theatre backdrops are pathetic enough, but why do the aliens have a nice wooden desk on their spaceship?
Plan 9 from Outer Space isn't merely a bad film, but a "What Not to Do" film-making handbook. Most of it consists of long, stagey, talky scenes, in which the dialogue is either tediously repetitive or unintentionally hilarious. For example: "One thing is sure: Inspector Clay is dead. Murdered. And somebody's responsible." The design budget seems to have amounted to $8.50, all of which was misspent. The wafer-thin cardboard gravestones and the am-dram theatre backdrops are pathetic enough, but why do the aliens have a nice wooden desk on their spaceship? Why is their leader wearing a tabard with a halberd-and-shield symbol on it, like a castle guard in a Robin Hood swashbuckler? And the acting is beyond parody. Take, for instance, Tor Johnson, a Swedish wrestler who was cast as an American police inspector, despite his difficulties with the English language. "I will get one of flashlight from patrol car," he grunts. Mercifully, that's one of his only lines.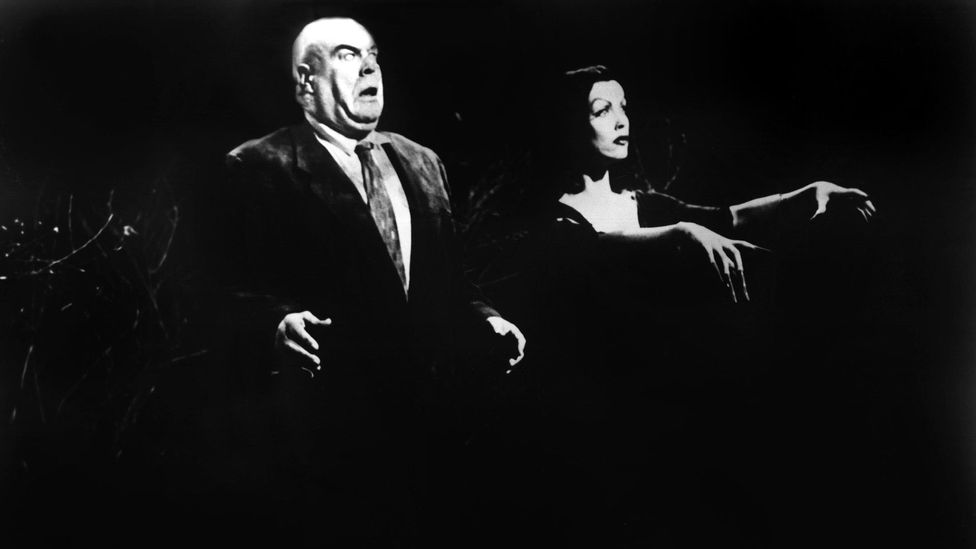 Nurmi (pictured with Tor Johnson) credited silent film star Theda Bara as her main influence (Credit: Alamy)
The most jaw-dropping aspect of the film might be Wood's total disregard for continuity. He loves to cut between his own bargain-basement footage and professional stock footage of cities and armies, ignoring the fact that they don't match at all. But even within his own footage, nothing matches. Plan 9 from Outer Space opens with the caption, "Criswell Predicts", whereupon The Amazing Criswell, a bow-tied TV psychic, addresses the viewer. "We are all interested in the future," he intones, "for that is where you and I are going to spend the rest of our lives." That sounds reasonable, doesn't it? But then Criswell blows it, following that snappy gambit with this nonsense: "And remember, my friend, future events such as these will affect you in the future." Incredibly, there is worse to come. He concludes his introduction by boasting: "We are bringing to you the full story of what happened on that fateful day." So … the story isn't set in the future? It's set in the past? What was the point of all that prattling about the future, then?
On it goes. A few minutes after Criswell's opening spiel, his narration drones on about "sundown", only for an airline pilot to refer to "this time in the morning". The same pilot then glimpses a wobbly flying saucer, as cymbal-shaped as you might expect a flying saucer to be. Soon afterwards, he informs his wife: "It was shaped like a huge cigar." The most notorious inconsistency, though, is that in a handful of brief, silent scenes, one of the living dead is played by Bela Lugosi, the horror legend synonymous with Dracula. But in several other scenes, the same character is played by someone far taller and balder – Wood's wife's chiropractor, in fact – with a cloak held over his face in the hope that viewers won't spot the difference. Why? Because Wood had shot some snippets of Lugosi shortly before the actor's death in 1956, and he decided that he could build a whole film around them.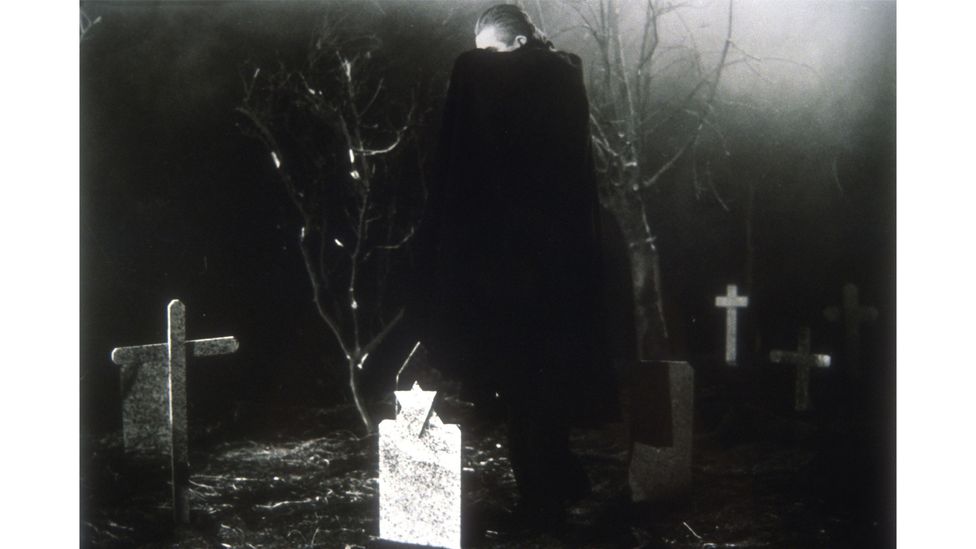 Wood combined footage he'd shot of Lugosi before his death with images of a stand-in hiding behind a cloak (Credit: Alamy)
All of which brings us to the second reason why Plan 9 is so beloved. As mind-boggling as the ludicrous farrago on the screen may be, the events behind-the-scenes are almost as fascinating. Wood himself was a World War Two veteran who was keen on wearing women's clothing, angora sweaters, especially: this provided the plot of his earlier film, Glen or Glenda. When he couldn't persuade any major studios to employ him, he gathered a team of outsiders to work for peanuts. "His films were guerrilla productions financed outside of the confines of the mainstream Hollywood machine," says Mendik, "which helps endear him to cult film aficionados."
Plan 9 from Outer Space might be a failure, but it's a heroic failure
One of his outcast collaborators was Lugosi, the Hungarian-American former star who was, by the 1950s, washed up, depressive, and addicted to methadone and morphine. Even after his death, his involvement helped secure funding for Plan 9 from Outer Space, but the meagre money came from the Southern Baptist Church on the condition that the cast and crew were all baptised. As mythologised in Burton's Ed Wood, the film wasn't some cynical hackjob, but a truly eccentric labour of love. Hence, says Sexton, the "romantic appeal" of a writer-director-producer who "has gained the status of a kind of anti-auteur". Plan 9 from Outer Space might be a failure, but it's a heroic failure.
Redeeming features
And here's the third key to its strange charm: it isn't actually a failure in every respect. Don't get me wrong. Plan 9 from Outer Space is a terrible film. A dreadful film. An atrocious film. But it does have some elements that are halfway decent, and it's unlikely that it would have a cult following without them. That title packs a punch, for a start; if, as the legend goes, it was changed from Grave Robbers from Outer Space at the insistence of the film's Baptist backers, then they did Wood a favour. The concept of aliens bringing humans back from the dead is promising, too. And some of the imagery is strong enough – iconic enough, even – to have been put on posters and turned into Halloween costumes. In particular, the wasp-waisted Maila "Vampira" Nurmi was the archetypal gothic screen temptress years before Morticia Addams or Elvira ever squeezed into a slinky black dress; and while the hulking Johnson might have been disastrous as a cop, he makes a formidable gurning zombie. These factors are enough to make the film just about watchable.
There are some scholars who would go further. Ernest Mathijs, co-writer of the BFI's Guide to 100 Cult Films, contends that Plan 9 from Outer Space "challenges the regimes of taste we make up". Rodney F Hill, who writes about Wood in Science Fiction Double Feature: The Science Fiction Film as Cult Text, believes it to be a "campy, cult masterpiece" with a "minimalist avant-garde aesthetic". He explains to BBC Culture that the film "pointedly rejects the conventions of logic, verisimilitude, and unity that characterise classical Hollywood cinema, in favour of a looser, more meandering plot structure, a flagrant disregard for the rules of continuity, and arguably a modernist or even Brechtian self-awareness of its own artificiality".
I'm not sure I'm convinced, but maybe, just maybe, Plan 9 from Outer Space isn't the worst film of all time, after all. "Tommy Wiseau's The Room is my own candidate for worst film ever," says Mathijs, while Sexton opts for Manos: The Hands of Fate, from 1966. "Its director," he says, "makes Ed Wood seem competent by comparison."