Brunch and Breakfast Tips
So many people are on-the-go that they forget the most important meal of the day: breakfast. Make time for breakfast or brunch by making sure there are plenty of healthy options that will entice you to eat. Planning the night before doesn't hurt, either.
In the following pages you'll find tips on how to host a brunch, make time for breakfast and the array of yummy breakfast and brunch foods available:
How to Host a Successful Brunch
Partaking in a household breakfast or brunch can be a weekend favorite or a weekday treat, but hosting one isn't always a piece of cake, pancake or not. To avoid the breakfast blues, check out these great tips and tricks for hosting a successful brunch or breakfast without the hunger pains.
Serving Brunch, Buffet Style
A buffet is probably the easiest way to host a brunch. There are none of the worries about serving food in courses or seating folks or displaying fancy table linens.
In other words, it's less work for the hostess. Plus, the menu is usually pretty standard, and the dishes aren't complicated to prepare. By following a few simple guidelines, a buffet can be almost as simple as arranging the food on the dining room sideboard and sounding the dinner bell.
A buffet can seem like an overwhelmingly dramatic presentation of food, but it really doesn't take much effort to get it to look beautiful. Mixing and matching is perfectly acceptable and completely fashionable.
What to Make
Brunch menus obviously draw on foods from both breakfast and lunch. There's usually an egg-based dish, a dish incorporating traditional breakfast meats, pastries and cheeses.
Lunch is usually represented by an entrée such as a casserole or meat-based dish, sometimes served over rice. Fruit salads and vegetable salads are typically served.
Choosing dishes that can be served at room temperature is another option to consider when selecting the menu. Unless you plan to seat the guests at a table, select foods that don't need to be cut because plates and drinks probably will be balanced on laps.
Desserts are simple — cupcakes, cookies, bars, pastry. And beverages include juices, coffee, and tea but also typically feature one or more alcoholic beverages, such as mimosas, Bloody Mary's, sparkling wine, or champagne.
Where to Put the Food
Place the food on the buffet table in a logical order: main dishes first, followed by side dishes, salads, and breads.
The trick to successful entertaining is to serve dishes that you can prepare easily and with confidence. If you can scramble an egg, slice a bagel, and pour orange juice into a pitcher, you can do a brunch buffet.
Any surface can double as a serving table. A brunch buffet is a casual affair, so feel free to use several surfaces to hold everything. As a matter of fact, it actually works well to group the main and side dishes together on one table, beverages on another and desserts on yet another; the traffic keeps moving and your guests can avoid gridlock.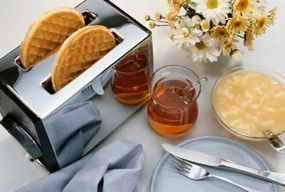 Breakfast and brunch should be relaxing, not taxing. Check out tips on how to host a stress-free brunch.
Before you set up, consider how you want the brunch traffic to flow, and then place the tables accordingly. Ideally, tables should be approachable from all sides so there can be more than one line of guests serving themselves at the same time.
If you don't have the space to put all of the tables in the same room, try putting the coffee, tea, and desserts on a table or two in the room where everyone is likely to gather to eat.
Where to Put Your Guests
If guests will be eating at a table, lay a background of plain linens or subtle patterns to help accentuate the beauty of mismatched pieces. A simple and inexpensive way to show off these pieces is to use "chargers": large decorative plates that sit under dinner plates.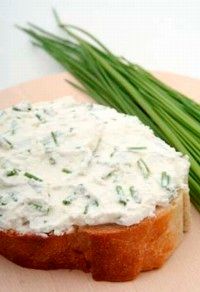 Try to make foods where individual servings are possible.
And speaking of eating at the table, if that's in the cards for your buffet, keep the main table's centerpiece short. Guests are going to want to converse with-and see- the other guests.
Leave plenty of room in front of the serving dishes so that guests can set their plates down while they serve themselves. If guests will be eating at a table, set flatware on the table in place settings. If there won't be a main serving table, put flatware at the end of the buffet line.
Make Utensil-Friendly Food
By the way, go easy on the flatware. Food should be cut into individual servings where possible so that knives are unnecessary. And if coffee will be served afterward and/or elsewhere, provide spoons near the coffee service so guests don't have to carry them around throughout the meal.
Lastly, go easy on yourself. Cook ahead. Arrange and set tables and decorate the day before. Purchase foods you don't have time to cook. Relax, and remember that your friends are coming to see you and have a good time, not to scrutinize your china.
Turn to the next page for some tips on making time for breakfast.
Hungry for more? Visit these sites:
Breakfast Tacos Recipe
Brunch Casserole Recipe
Brunch Frittata Recipe
Breakfast Tips
Breakfast is the most important meal of the day. But for most modern families, it's also the most impromptu. Come morning, we're either skipping breakfast altogether or scrambling for anything that's fast and portable.
Usually it's something sweet, high in fat, and full of empty calories — nothing that can give you the nutritional edge of a balanced breakfast.
To keep breakfast from turning into a morning snack marathon, you need to be proactive. Follow these five easy strategies to help make breaking the fast really fast at your house!
Make breakfast a regular, non-negotiable part of everyone's morning routine. Set aside a specific block of time and resist the temptation to keep hitting that snooze button!
Plan breakfast. The time to think about what's for breakfast is not the moment you're about to make a mad dash out the door. Stock up on easy, flavorful, healthy foods that are quick to fix. Put breakfast foods within easy reach, so they're accessible for even the youngest-and shortest-members of the family.
Before going to bed, set out bowls, spoons, dried fruit, and sandwich bags filled with cold cereal. Fill a child-friendly pitcher with milk and put in on the lowest shelf of the fridge. The kids can serve themselves.
Breakfast is a real no-brainer when it's already ready. Always have some hard-cooked eggs on hand in the refrigerator. Or put oatmeal and boiling water in a stainless-steel lined thermos, leaving at least an inch at the top. Seal and let stand overnight for a creamy, hot, ready-to-eat or take-along treat.
Leave nothing to chance or chances are someone will sneak out without breakfast. Provide plenty of options already divided into pre-packed, single-size servings for everyone to grab and go.
If your family skips the morning meal because the usual foods just don't appeal to them, think outside the cereal box:
Reheat leftovers
Try a slice of cold pizza
Blend fruit and yogurt into smoothies
Fill a cored apple with peanut butter and raisins to create a walking salad
Put scrambled eggs in a pita pocket to eat neatly on-the-go
Take veggies and hummus for your commute
Not an early riser? Check out the brunch tips on the next page. Hungry for more? Visit these sites:
Brunch Tips
Slightly elevated breakfast dishes coupled with the leisurely start time of an early lunch make brunch a popular option not only when dining out on the weekends, but also when eating in at home.
From savory egg dishes, potatoes, meats, and salads, to sweets like coffee cakes, waffles, fruit, and pastries, the possibilities for an enticing brunch menu are broad.
Although more time-consuming to prepare than the typical eat-and-go breakfast, there are plenty of prepared items that can be used to speed up cooking time.
Here are some ideas for simplifying brunch :
Frozen pie crusts and puff pastry
Perfect for the quintessential brunch dish of quiche. Simply fill pre-baked crusts with a mixture of beaten eggs, half-and-half or heavy cream, and your favorite cut-up vegetables or meats and bake at 350°F for about 30 minutes.
Fill baked, cooled pie crusts with a layer of instant pudding or custard and sliced fruits for a simple fruit tart.
Cut puff pastry into squares large enough to cover bottoms and sides of individual cups in a muffin pan. Brush pastry lightly with a mixture of egg and milk, and bake according to package directions. Fill cooled pastry cups with a mixture of scrambled eggs, grated Cheddar or Swiss cheese, and crumbled breakfast sausage or bacon.
Frozen potatoes
To make quick Swiss Rosti-style potatoes, combine frozen hash browns or O'Brien-style potatoes with fresh or frozen chopped onions, grated zucchini, and shredded cheese. Press into a single layer in a skillet, and cook until browned on both sides, turning once, or cook in an electric grilling machine.
Smoked salmon
Toast bread slices, spread with dill-flavored cream cheese, and top with thinly sliced smoked salmon. Cut into triangles and garnish with lemon wedges, dill sprigs, and capers.
Incorporate cut-up pieces of smoked salmon, along with small cubes of cream cheese and sliced sun-dried tomato, into your favorite frittata or omelet.
Canned pie fillings
Use any variety to top waffles and pancakes.
Dice larger fruit pieces and incorporate them into a simple muffin recipe.
Berries make a great addition to brunch. Visit the following page, which talks all about berries.
Hungry for more? Visit these sites:
Berries for Breakfast
Berries are more perishable than many other kinds of fruit, so take extra care when handling them. Choose berries that are plump and richly colored — they won't ripen further after they've been picked.
Avoid packages with crushed or moldy berries. Store berries uncovered in the refrigerator, and don't rinse them until just before you're ready to use them — they spoil quickly when damp.
To enjoy the flavors of summer all year long, freeze fresh berries immediately after purchasing. Wash and dry the berries, then arrange them in a single layer on a baking sheet. If using strawberries, hull them first. Freeze the berries until frozen solid and transfer them to plastic freezer bags for storage.
Berries can be added to biscuits or scones. What's the difference between the two? Find out by visiting the next page.
Hungry for more? Visit these sites:
Biscuits vs. Scones
Q. What's the Difference between biscuits and scones?
A. Biscuits and scones are pretty similar but there are subtle differences that set them apart. Think you can tell what is what? Check out these facts about biscuits and scones:
Both are quick breads leavened with baking soda or baking powder.
Each uses the same basic technique of cutting fat into flour to create a dough.
Scones are often sweeter and richer, although biscuits can be sweet and scones savory.
Scones are often cut into triangles; biscuits are usually round.
Biscuits are often associated with the southern United States; scones are Scottish.
Biscuits are served as a side dish with breakfast or dinner, while scones are more likely to be served with tea, for brunch or as a base for dessert sauce.
Both are best eaten hot from the oven.
This article originally appeared on howstuffworks.com