Prime Minister Boris Johnson has apologised for attending an event in the Downing Street garden during the first lockdown, but said his actions were technically within the guidelines.
It is the latest in a number of alleged parties to have taken place under Covid restrictions, which are currently being investigated by senior civil servant Sue Gray.
An email, sent to as many as 100 people in Downing Street, invited them to "socially distanced drinks in the No 10 garden this evening".
The email, revealed by ITV News, was sent on behalf of Mr Johnson's principal private secretary, Martin Reynolds.
It is understood that about 30 people attended the event on 20 May 2020. Two eyewitnesses had already told the BBC they saw Mr Johnson and his wife Carrie there.
In response, Mr Johnson told MPs he went into the garden just after 18:00 to thank groups of staff and returned to his office 25 minutes later. While apologising for attending, Mr Johnson said "I believed implicitly this was a work event" and his actions "could be said to fall technically within the guidance".
What were the Covid rules on 20 May 2020?
Throughout the pandemic there has been a mixture of guidance and legal restrictions relating to behaviour likely to spread the virus.
Legal restrictions are underpinned by sanctions – where breaking the law could result in prosecution. Guidance – unless it's also backed up in law – is not enforced by fines or court action, explains Stuart Nolan from the Law Society.
When it came to workplace gatherings, the guidelines said: "Workers should try to minimise all meetings and other gatherings in the workplace."
They further said: "Only absolutely necessary participants should attend meetings and should maintain 2m separation throughout." Generally, workers were told to "reduce the number of people you spend time with in a work setting".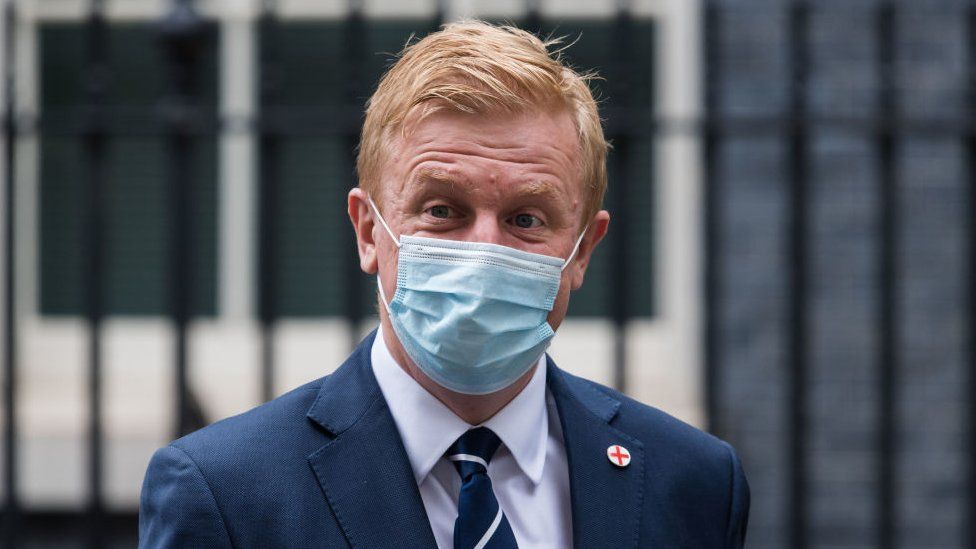 There were also a number of legal restrictions in place in May 2020:
People could not leave their homes – or be outside the place they live – without a reasonable excuse, which included work (where you couldn't work from home), exercise and getting things like food and medicine.
For people who broke these rules, the police in England could fine them £100 for the first offence which could then double for each further offence up to a maximum of £3,200.
It would be difficult to see how the Downing Street event would have been in line with these rules, argues barrister Adam Wagner.
"If you were doing something which wasn't necessary for work then you weren't outside of your house [with] a reasonable excuse and you were potentially committing a criminal offence."
However, Mr Wagner added that as the prime minister and his wife live in Downing Street they would not have technically left their home to attend the party.
Mr Wagner is involved in a case to bring a judicial review against the Met Police for not investigating the alleged parties.
The law also banned gatherings in a public place of more than two people, unless they were all members of the same household or the gathering was "essential for work purposes". However, lawyers have noted that Downing Street is not a public place.
The official gov.uk Twitter account posted this tweet on the same day as the Downing Street garden party.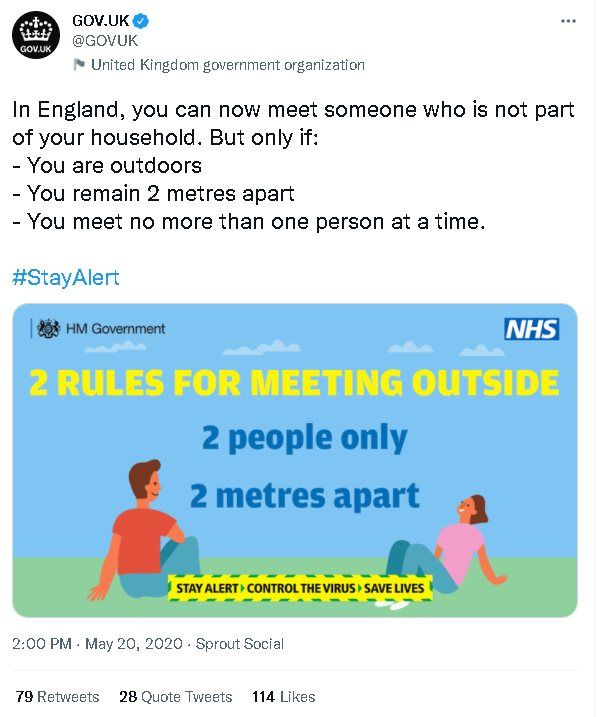 What about the rules around other alleged parties?
A number of other gatherings are alleged to have taken place in Downing Street during 2020.
One was alleged to have taken place on 27 November – a leaving party for Cleo Watson, a former aide to Dominic Cummings.
At this point a national lockdown was in force and indoor gatherings with other households were not allowed (unless for work).
This lockdown ended on 2 December and England returned to the tier system of restrictions where there was a specific prohibition on organising an indoor gathering of more than 30 people.
When a Downing Street Christmas quiz took place on 15 December, London was under tier 2 restrictions. These rules banned two or more people from different households from meeting indoors, unless "reasonably necessary" for work purposes.
Furthermore, the government's guidance for the Christmas period specifically said: "Although there are exemptions for work purposes, you must not have a work Christmas lunch or party, where that is a primarily social activity and is not otherwise permitted by the rules in your tier."
This same line was also tweeted out by the official gov.uk account on 17 December 2020 in response to a question from a member of the public about whether Christmas parties were allowed in the workplace.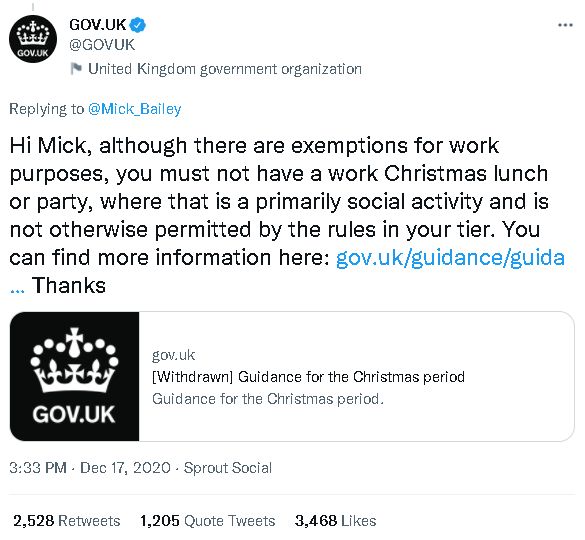 How has the PM responded to the allegations?
Allegations of Downing Street parties first surfaced in the Daily Mirror, when it reported in early December that a party had been held in Number 10 during the 2020 Christmas period.
In response, Mr Johnson told MPs that that "all guidance was followed completely in No 10".
"It goes without saying that if rules were broken then there will be disciplinary action for all those involved," Mr Johnson said.
Later, when details of the Downing Street quiz emerged, Mr Johnson said he "certainly broke no rules". Number 10 said that the prime minister "briefly took part virtually" to thank staff for their work during the pandemic.
Two people pictured with Mr Johnson – wearing tinsel and a Santa hat – were members of his closer staff who had come in to help him with the technology, according to Downing Street.
Number 10 also insisted that no rules were broken when a photo emerged of the prime minister and his staff with bottles of wine and a cheeseboard in the Downing Street garden from 15 May. Mr Johnson said that the photo showed "people at work", which was allowed under the rules.
How many people were fined?
During the first lockdown – 27 March to 1 June 2020 – 17,981 fines were issued for breaking Covid restrictions.
In the week Martin Reynolds invited staff for drinks at Downing Street, 807 fines were given in England and Wales.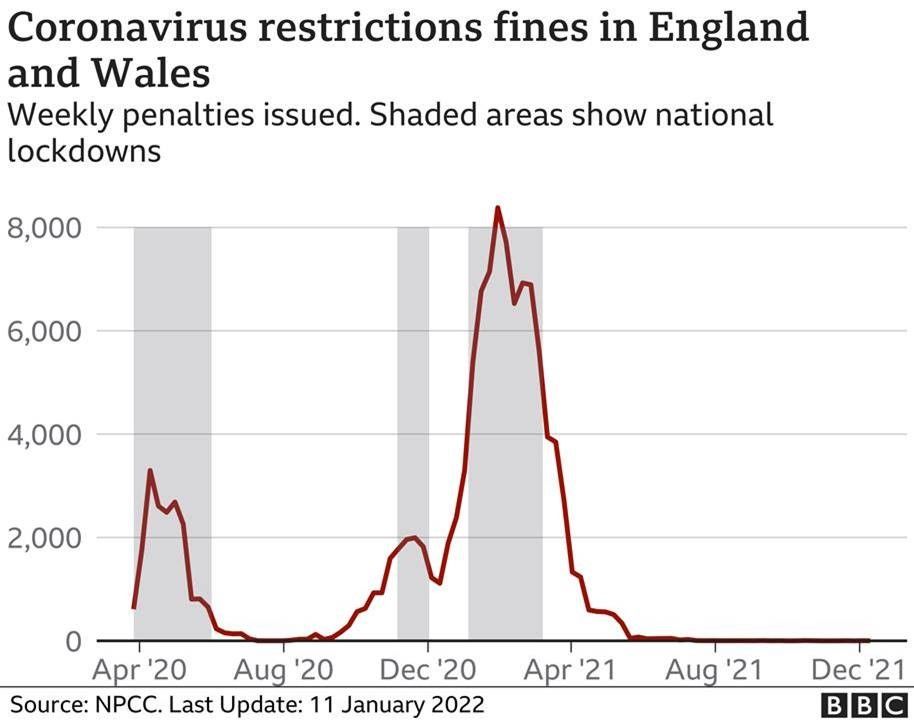 Only 29 fines were issued for the offence of illegal gatherings of more than 30 people on private properties. That's for both the first and second lockdowns put together.
Not all of the fines imposed will have been paid. Between March 2020 and August 2021, prosecutors checked 2,098 cases that had been challenged and ruled that 793 of the fines did not have to be paid.